Goldie by Sourhouse + Cooling Puck
Regular price
$129.95 USD
Regular price
$129.95 USD
Sale price
$129.95 USD
Unit price
per
Sale
Sold Out
"Simple...Stress-Free...Gorgeous" - The Kitchn
Goldie by Sourhouse™ provides just enough warmth to keep a sourdough starter consistently in the "Goldilocks Zone" of 75-82ºF (~24-28ºC) where it is the most active and healthy, so bakers can bake their best bread all year round without warming up their whole house.
This product includes:
1 - Goldie by Sourhouse
1 - Sourhouse Cooling Puck
1 - Quick start guide
1 - User Manual / Tech sheet: English & French
Features:
just enough heat to safely warm a starter to 75-82ºF

(~24-28ºC)




a small footprint with the capacity to hold up to a quart sized jar

an auto-warming on/off switch

a transparent, borosilicate glass cloche so bakers can see their starter from anywhere in their kitchen

a simple three-zone thermometer (indicated with blue, gold, and red lights) that helps bakers understand their starter's behavior and anticipate their time to bake

a Sourhouse Cooling Puck for the occasional need to cool down a starter in a too hot room in preparation for baking.

USB plug

works with any local USB-to-wall adapter (adaptor not included)


operating voltage is 100~240V, 50~60Hz

low energy use - draws max 5w!

food safe

water resistant

cleans up with a moist sponge, cloth or paper towel

works with any jar that fits inside (jar not included)
Certifications: FCC, California Prop 65, IC (Canada)

Materials

Warming Base : ABS, Aluminium
Cloche : Borosilicate Glass
Cooling Puck : HDPE, Silicone, Super Absorbent Polymer
Shipping & Returns

Sourhouse products ship from US and China-based warehouse. See our shipping & exchange policy for information about taxes and customs: https://sourhouse.co/policies/shipping-policy
Dimensions

Goldie
W6.5 D5.4 H8.5in
W165mm D136mm H216mm

Cooling Puck
D3.3 H0.9in
D85 H23.5mm
Care Instructions

Glass Cloche and Cooling Puck are dishwasher safe.

For Warming Base, wipe with moist sponge, cloth, or paper towel.
Share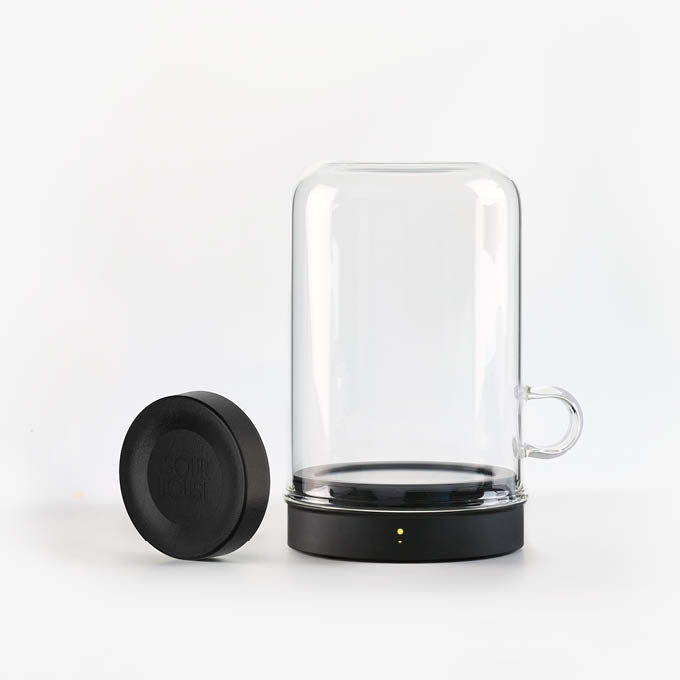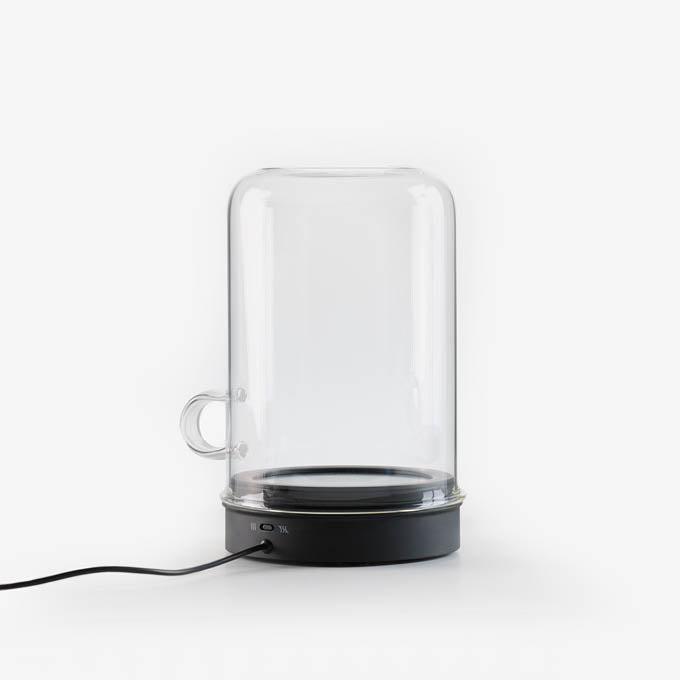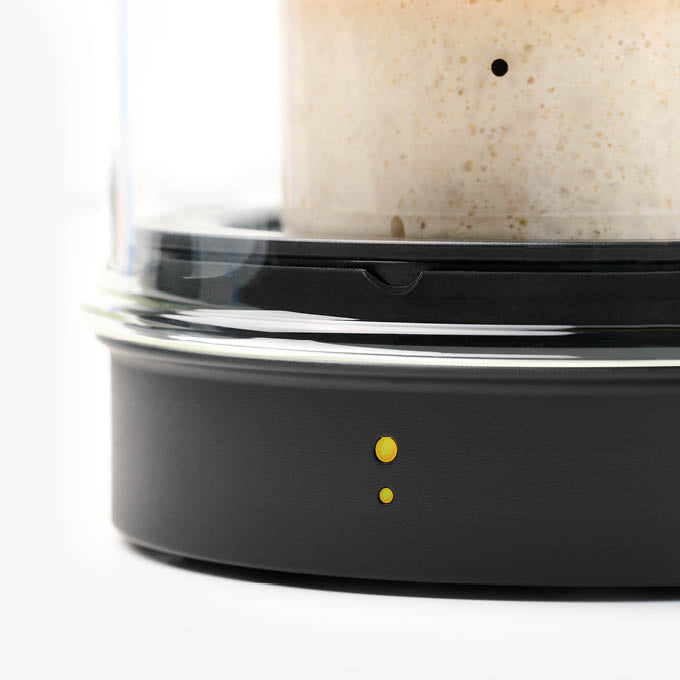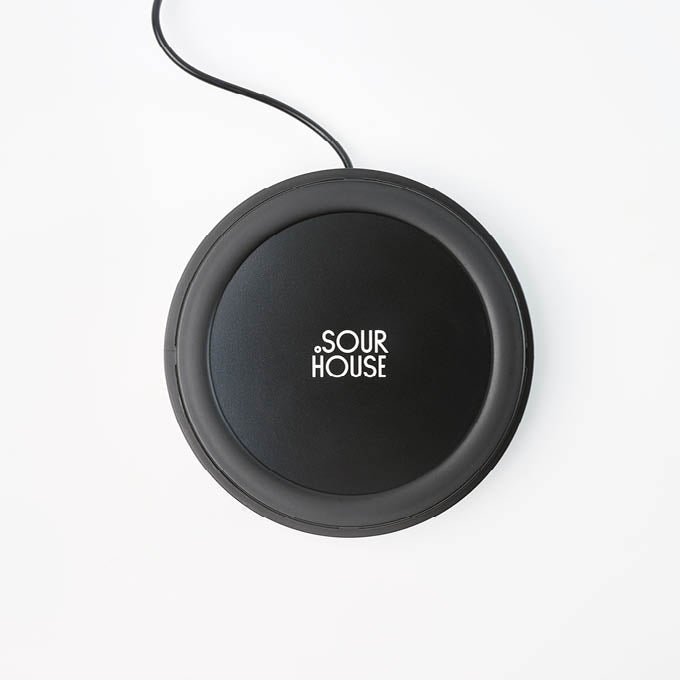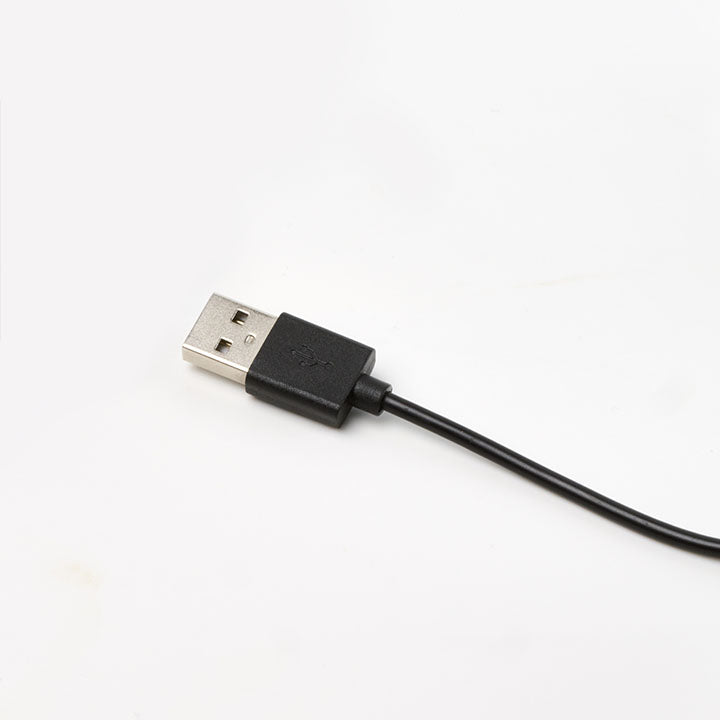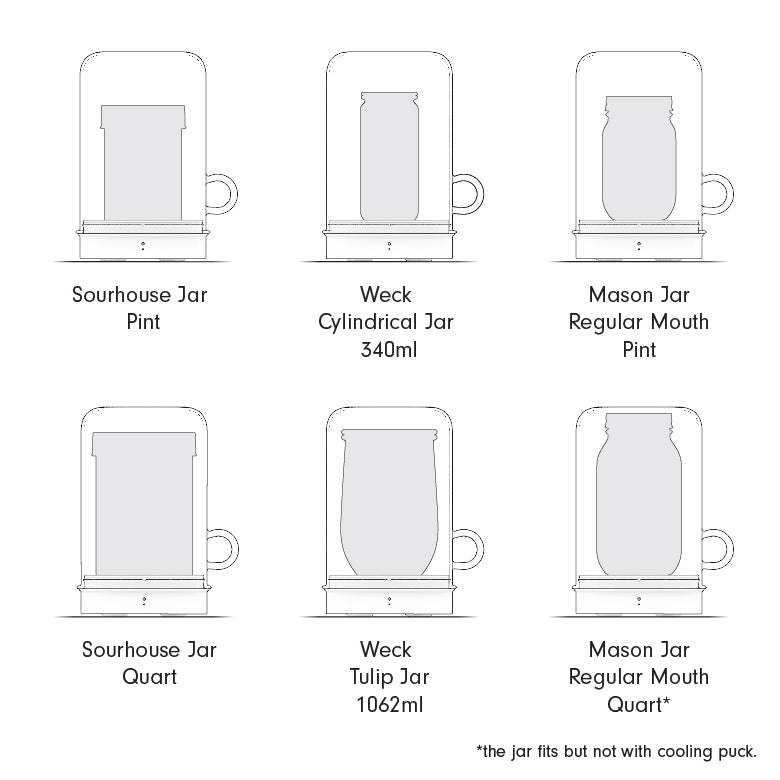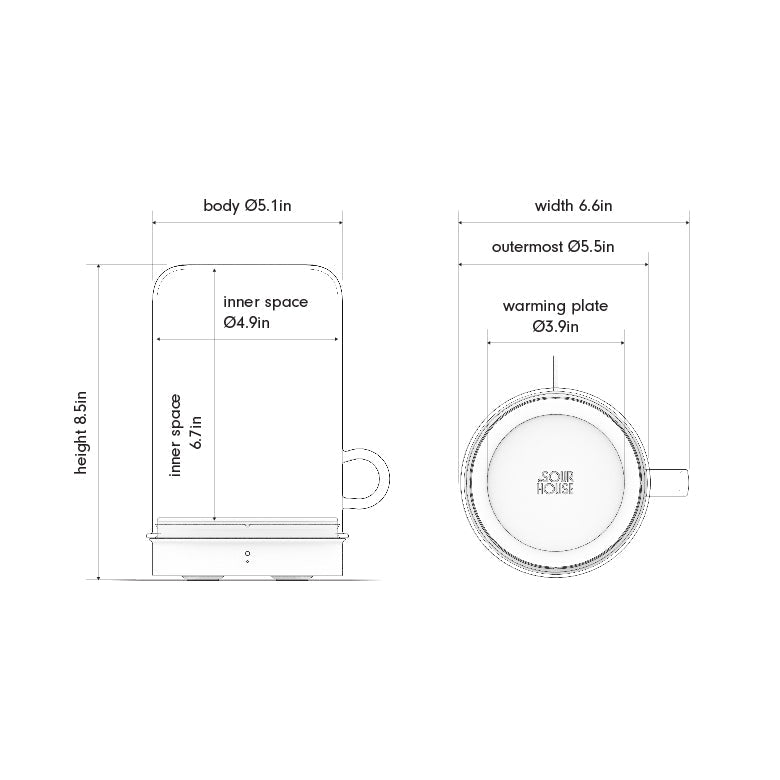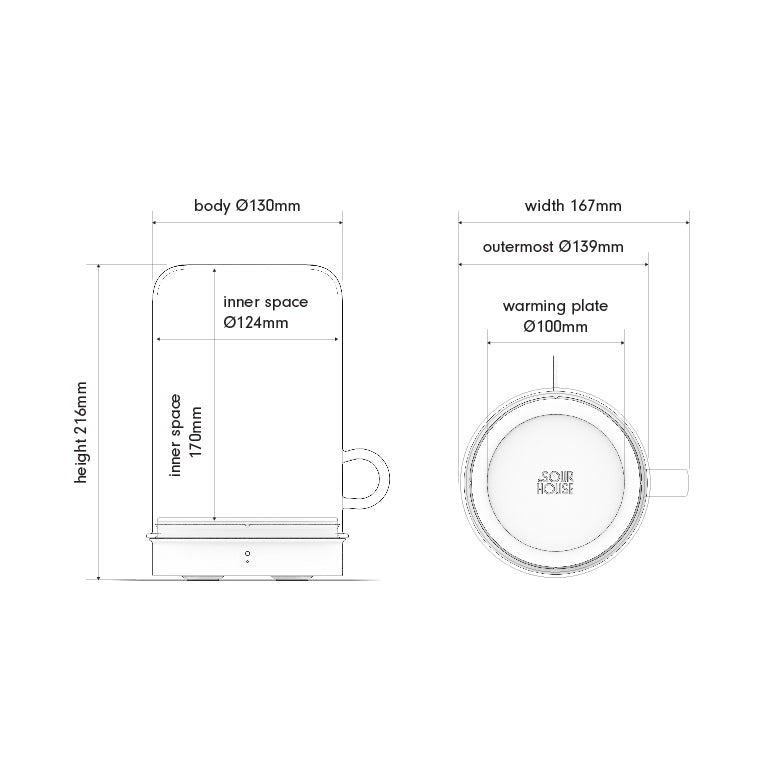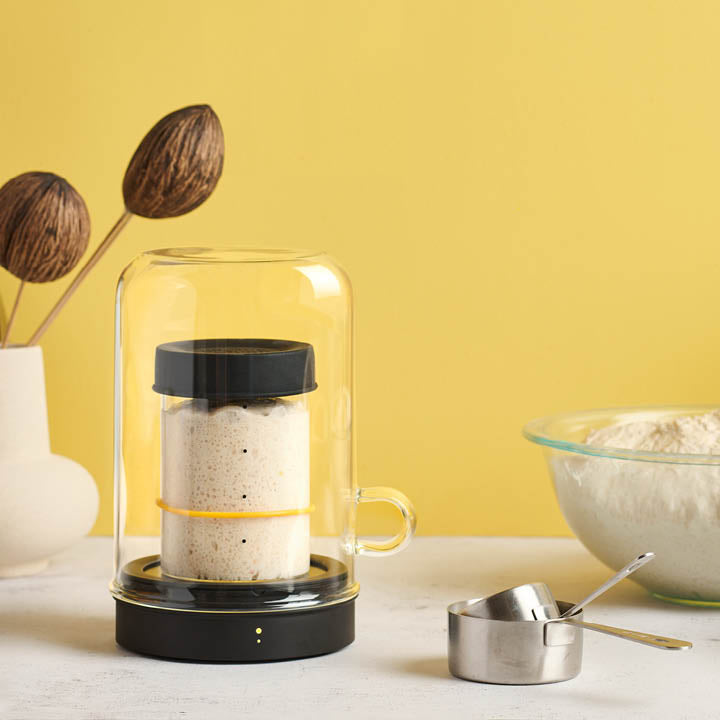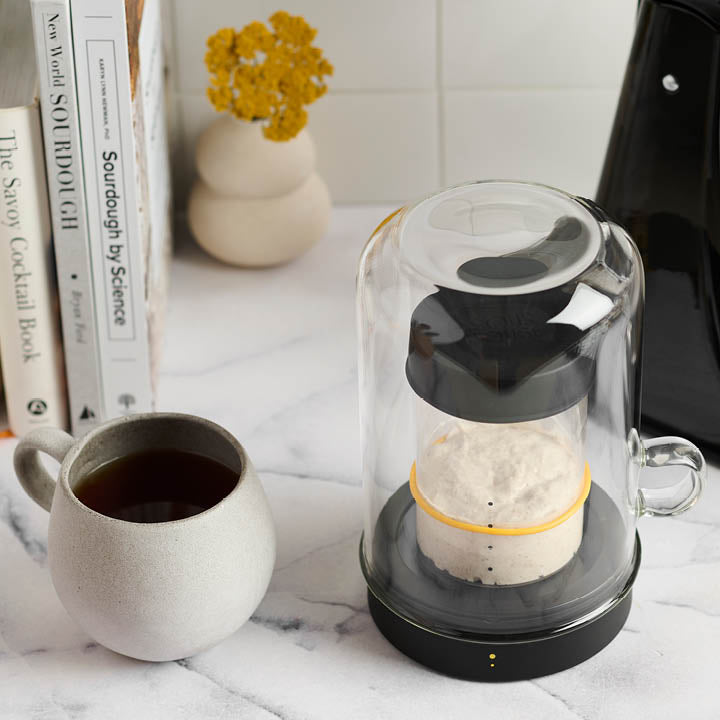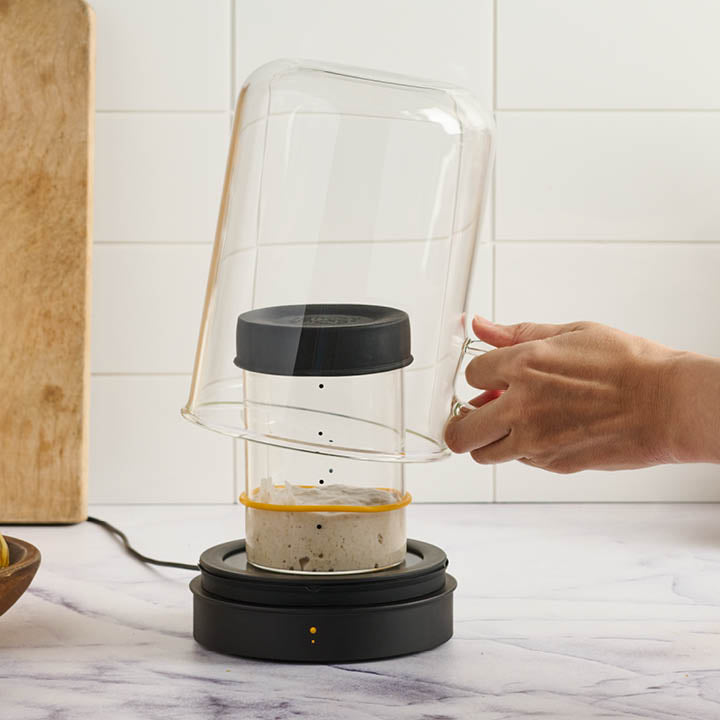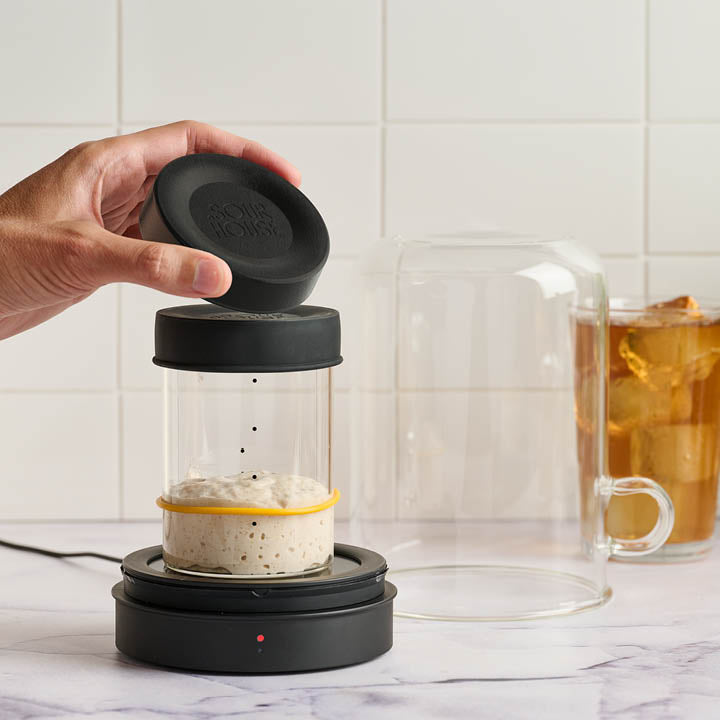 Beginner
I have always failed at keeping a starter but Goldie has been a game changer for me! I have the most beautiful strong starter and it's actually fun instead of a chore to take care for my next bake!
Game changer!
I had a feeling this gadget would be good .. but I didn't think THIS good lol I finally broke down and ordered it after my hubby cooked my starter for the second time as I had it warming under the oven light. This little Goldie is a WONDER! I never have to worry about my starter now and it's never doubled in since so fast! It' truly does create the perfect conditions for starter with almost zero effort! And it looks so pretty sitting in my kitchen too! It is a little pricy yes but if you are making sourdough on the regular it's worth EVERY penny! Couldn't be happier! Thank ya'll so much for such an great product! also very pleased with the high quality… the glass is really pretty in person!
Game changer
I hesitated for a long time concerning the price of the Goldie and futzed around with heating pads and towels for too long. Finally I decided to take the plunge and invest in my bread making and ordered this nifty little device.
It was expertly packed and arrived in good time. When assembled it is quite elegant: part lab equipment, part flower bell jar. We were amused just looking at it.
I plugged it in and took a run at doubling my starter and was so pleased with the results. This unit really delivers! The heating pad hardly feels warm to the touch but the starter thinks it's being turbo charged and rose accordingly.
It deserves its' five stars. Worth every penny.
It does NOT work!!
I have sent an email to your support team requesting a full refund! Still waiting to hear from them. I would not recommend the Goldie to anyone!!
Hi Carylon...sorry to hear your Goldie isn't working out for you. Please note our goal is to respond to email inquires within 24hrs during business hours. I see you wrote in just a few hours before the end of our day. This is a busy time of year so you will likely hear back from us early in the morning about helping you with your return.
I've been asked to write a review however I purchased the Goldie as a Christmas gift so as yet haven't been able to sample any of the goodies that will be created. Ask me again in about a month.
Curt